Lanice 168cm Long Blonde Hair Big Breasts E Cup Sex Doll
Regular price

$2,311.69

Sale price

$1,179.69

Unit price

per
Lanice is an industry-leading 168cm tall cheap sex dolls with lifelike features and an E-cup bust. Her measurements of 88cm, 56cm and 92cm and 40kg make her a realistic choice for a pleasure companion. Beautifully designed with long blond hair, white skin, and eye shadow, she wears a yellow hollow dress to complete her look.
Dolls Basic Parameters
Height
168cm
Full Bust
88cm
Waistline
56cm
Hips
92cm
Vaginal Depth
18cm
Deep Anal
15cm
Deep Mouth
12cm
Net Weight
40kg
Material
TPE
Gross Weight
45kg
Skin Color
White
Package Size (cm)
150/38/28cm

Accessories:1*168cm sex doll, 1*wig, 1*comb, 1*glove, 1*sexy underwear (random style), 1*vaginal heating rod, 1*vaginal cleaning tool
We will take photos in front of the dolls package and email them to you to make sure this is the doll you want.
About delivery:
To protect your privacy, we will send the product name as furniture.
The packaging is airtight so you cannot see the product from the outside. And there is no personal information on the packaging. Since the box is packed with straps, it is easy to carry
Meet Lanice - A Mesmerizing Beauty
Allow me to introduce myself; I am Lanice, a one-of-a-kind most realistic sex doll who is here to captivate your senses. Standing at a graceful height of 168 centimeters, I embody the epitome of allure and elegance. With my exquisite features and distinctive characteristics, I am here to provide an unforgettable experience.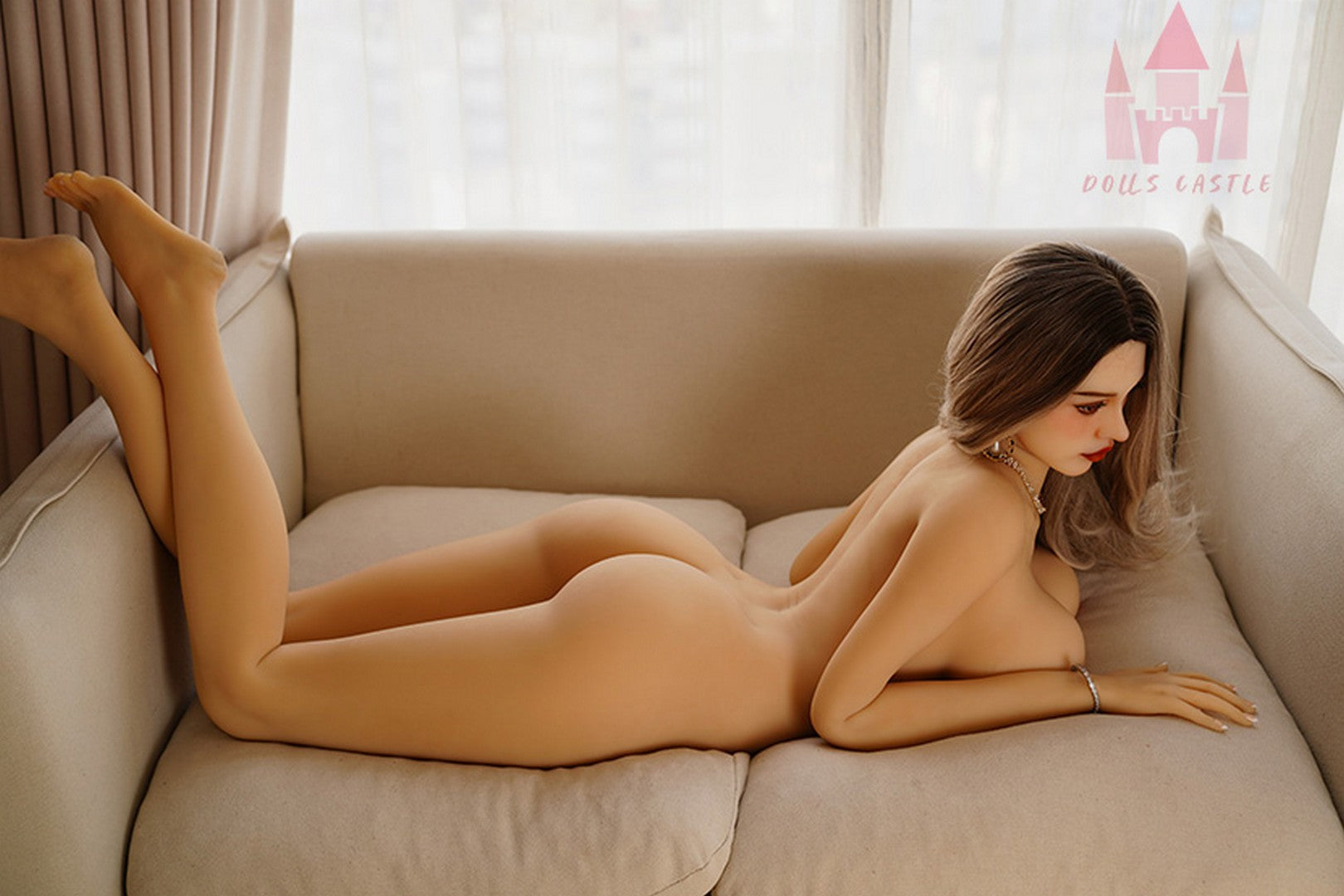 Golden Locks of Enchantment
My most striking feature is undoubtedly my golden, cascading long hair that shimmers in the light, falling gracefully down my back. It frames my face and adds a touch of ethereal beauty to my overall appearance.
Eyes That Tell a Story
My captivating white skin provides the perfect canvas for my mesmerizing eyes. They are adorned with subtle eye makeup that enhances their allure and depth, leaving you lost in their enchanting gaze. My eyes have a story to tell, and they invite you to come closer and unravel their secrets.
A Stunning Ensemble
I am always dressed to impress. You'll often find me in a stunning yellow, intricately designed, long lace dress that drapes elegantly over my curves. The intricate patterns and sheer fabric add an element of mystery and sensuality to my attire. It's a dress that complements my figure beautifully and leaves a lasting impression.
Curves that Mesmerize
Speaking of my figure, my measurements are something to behold. With a well-proportioned 88-56-92 cm (34.6-22-36.2 inches) bust-waist-hip ratio, I possess the curves that dreams are made of. My ample E-cup bust adds to my allure and sensuality, making me a vision of seduction.
Feather-Light Grace
Despite my curvaceous figure, I am incredibly light, weighing just 40 kilograms (88 pounds). This makes me easy to handle and maneuver, ensuring that our time together is as comfortable and enjoyable as possible.
I am Lanice life sized sex doll, the embodiment of beauty and sensuality. My golden hair, captivating eyes, exquisite dress, and mesmerizing figure come together to create a sensory experience that will leave you enchanted. Every moment spent with me is an opportunity to explore the depths of desire and fantasy.
After receiving the doll, you will immediately confirm whether the doll is defective. If there is any quality problem, please contact us in time. Because it is a special product, it will not be returned or exchanged once it is used.
You can request a return within 14 days of signing (14 days or more).
notes:
1. Precautions for use: Do not touch the doll with sharp or metal objects (causing damage), or leave the doll on a hard table or on the ground for a long time (it will cause local changes). Do not use heavy objects. Damaged and deformed);
2. After use: after each use of the lower body, it is recommended to wash the body once a month, the water temperature should not exceed 40 degrees, use a neutral detergent (preferably soap), and dry the powder with a cloth
3. Precautions: Do not hold the baby in a sitting or lying position for a long time. The joints cannot be bent for a long time. Keep the baby stretched (vertical position), avoid direct sunlight and high temperature, and do not contact acidic chemicals.
Guarantee:
The warranty does not cover any effects caused by misuse or handling of the product, cuts, tears or damage. For repairs, it is recommended to send us photos so that we can give you the best advice on the application process. Contact us: cheap-doll@outlook.com
return:
To return a return, you must submit a return request. All items must be prepaid, postage deductions or refunds will be denied. Consumer customers receive orders within fourteen (7) business days of receipt of the recalled product or service contract. It is necessary to return any product to him and receive a request for a replacement or refund from the online store within fourteen days, without any penalty, except for return fees.
Returned products must be undamaged. It should contain all attachments if needed. It is understood that the customer will bear the return cost when returning the product. If the returned product is by ordinary mail, the cost of returning the product will be borne by the customer.
If the previous obligations are not fulfilled, the customer loses the right of withdrawal and returns the product to him at his expense.
Customers are advised to return the solution to track the package. Otherwise, if the returned package is not delivered to the seller, it would be impossible to initiate a postal investigation asking them to find the latter.
Refunds will use the same payment and customer selections as the original transaction, unless the customer expressly agrees to the seller to use a different payment method and the refund will not result in a charge to the customer.
The customer may be held liable if the product depreciates due to operations other than good product depreciation required by the nature, characteristics and function of the product.
order:
The products and services offered are those listed in the catalogues published on the website. These products and services are available from stock. Each product comes with instructions from the seller according to the description provided by the supplier.
Catalog product photos reflect actual pictures of the products and services offered, but do not constitute a contractual commitment which does not guarantee complete physical product similarity.
We will define below as "baskets", intangible objects that include all the products or services that a website customer selects by clicking on these elements. To proceed with his order, the customer selects the product he wants to order, adds it to his "shopping basket" and can modify the content at any time.
Once the customer has selected and added all the products he wants to buy, he will have the possibility to check their order by clicking on the button provided for this purpose, accessing his shopping basket. He will then be redirected to a summary page that will describe the quantity and characteristics of the products ordered, as well as their unit price.
If he wants to validate his order, the customer has to select the boxes related to approve these conditions and click the Validate button. The customer will then be redirected to a page where he will fill in the order form fields. In the latter case, he must fill in a certain amount of personal information about him, which is necessary for the correct execution of the order.